If you've been following me from the beginning you'll have known that I draw.
I'm a self-taught artist and I'm still learning. Heck - I don't know how to paint, so I stick to pencils, sometimes watercolour pencils (how do you use them? Not a clue, I make it up as I go along...) and sometimes chalk and charcoal.
I've also liked Britney since she released her first single "...Baby One More Time" and I've never actually drawn her, so I figured it was about time I did.
I used the colour and black and white image of this picture to copy:
These are my step by step pictures.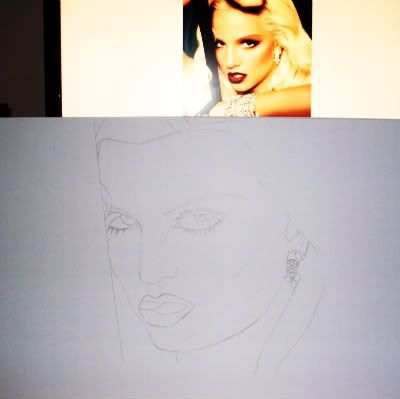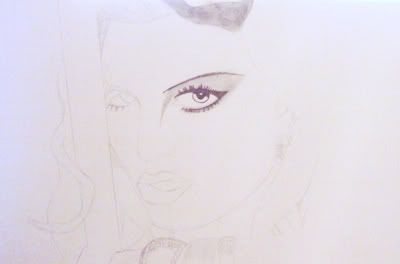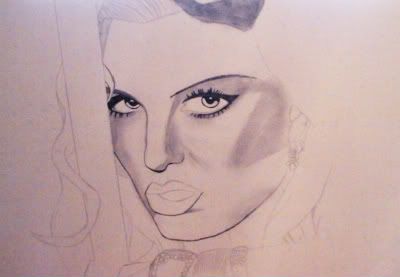 So the eyes were practically done, and I was pretty pleased with them.
Next was the lips, and as you can probably tell I had difficulty with the shape. Once I thought it was correct, I started to use my watercolour pencils (red and black) to try and give that "Dark Hollywood Glamour" feel to it, but it was disasterous. Trying to blend watercolour pencils before applying water is a very difficult thing to do...there were too many lines and just looked plain awful. I tried using the water on top to see if it would improve but it didn't improve at all, just looked messy.
I then used a normal colouring pencil that was of a berry colour to try and go over it a little bit (the black kinda took over a bit) and I thought my picture was completely tarnished.
I used Tippex to give the lips a shine to them, and used a red manga pen to go over it and give the lips some lines on the bottom lip.
And thank God as well, as I believe it saved my picture.
I also used watercolour pencils to colour in the eyes.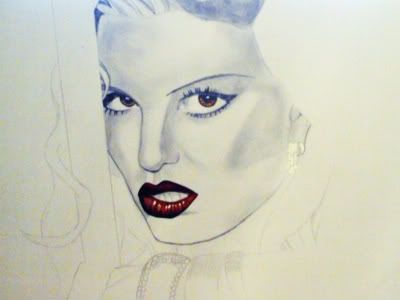 And the final piece...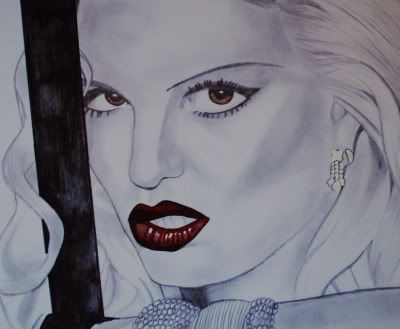 It took me about 3 hours. I know it's not perfect, but hope you like it nonetheless.