Some of you may remember my post a while ago about Disney and their animation. Well, good news is that they're finally swapping their computers for pencils once again in the new Disney film "The Princess and the Frog", which is the first Disney film to be set in America (New Orleans, to be precise, and in the 1920's) and to have a black heroine.
Now, I'm not the sort of person who is fussed about ethnicity. I don't watch films and think "why did they choose this character?", I'm a pretty accepting person to be honest, so when I discovered this was Disney's first black heroine I had to stop and think.
Is it, really?
Well, yes, really, but what about the fuss over Jasmine from Aladdin? Or Pocahontas? Sorry, did those two films just slide by? They weren't exactly white.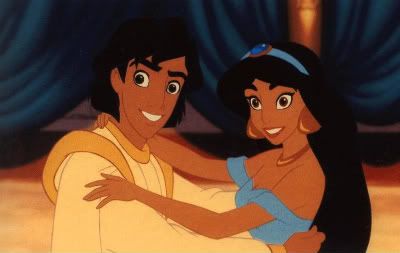 The Princess and the Frog...
So there IS a different skin tone, I won't deny that, especially since Jasmine is Arabian and Pocahontas is a Native American (so maybe Princess and the Frog isn't the first film to be set in America, after all?), but how come these two Disney characters didn't get such attention? At least, I don't remember any of it, but I was very young at the time of their release. Still, everytime you hear about "Princess and the Frog" you always hear a repeat of "First Black Disney Princess".
My question is..."is it really such a big deal?"
The world has become a mix of races and although there's always going to be racism, is it necessary to highlight such a feature? Why draw attention to it? What about all the other ethnics in Disney films: French (Beauty and the Beast, Hunchback), Chinese (Mulan), Greek (Hercules), Italian (Pinocchio), Britain (Peter Pan, The Sword in the Stone)? Although they're not exactly different colours skin-wise, Disney stories have been spread geographically. I personally wouldn't say Disney is "racist", like someone at work said to me earlier today.
So are people raving about having a Black Heroine because of this whole "black and white equality" thing? Or am I making a mountain out of a mole hill?
And don't get me wrong, I'm not blasting Disney for creating a Black Heroine, like I said earlier I'm not the sort of person to discriminate, I'm not racist. I have no problem with it. I just wonder if it needs to be mentioned so much.
Feel free to comment and give me your views - maybe I'm missing something! I'll try and reply to everyone.