This has got to be one of the most random things I've ever done via Twitter.
See, there's this guy in Mika's band called called Jimmy and he has a Twitter account. He's quite a nice man, friendly and does frequent updates. He's a bit special, but we forgive him for that.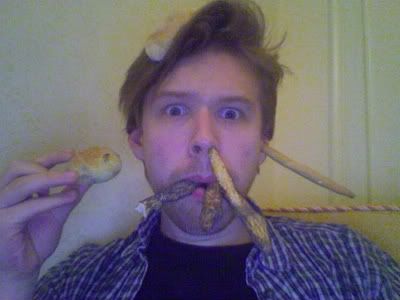 Anyway, he made a character out of breadsticks and Christened him "Dr. Breadstein". The pictures he was posting on Twitter were becoming increasingly hilarious and I told him they needed a storyboard.
He ended up giving me the job! What began as a joke turned out to be quite serious, so he sent me 4 pictures and I had to make a script out of it.
So. Here they are.
Merry Christmas.