Just before the physical release of Mika's first single "We Are Golden" from his sophomore album "The Boy Who Knew Too Much", Mika went a tad crazy on Twitter and was telling his fans that he was going to throw a special event to celebrate the new song. I was very excited, but felt that I wouldn't be able to go on this particular day, so was praying that the day would get changed.
I have been a fan of Mika since late January/early February 2007, so basically right from the very beginning. He has helped improve my character and has made me a more confident person and it's also because of him that my art has improved. It is also because of him that I have become more independent. It took me two and a half years to meet him (Sadler's Wells, June 8th 2009) and although it was for a split second, it was one of the best split seconds ever. There aren't many other feelings better than when you meet your idol. If I went to the pub with Mika, it would mean time being spent with my Mika friends plus personal time with Mika himself. Precious.
Mika announced that the pub party would start at about 7pm and I found out two hours earlier that very day. I was free that day. I could go. I got dressed as quick as I could and hopped on that train to Fenchurch Street, and then onwards to the Underground.
I met my friend Danika outside Ladbroke Grove station (as it's near Portobello Road, where the pub was) and Danika had told me that Mika had already arrived. (I got there at about 8ish). I was excited yet calm, and as I arrived at the destination I saw a small crowd of people outside. I walked in and clocked Mika's mother and his younger sister. Danika led me to the MFC table which consisted of a small bunch, but with people from Essex (like me) London, Hertfordshire and Wiltshire. Apparently Mika had already gone up to the table and spoke to them before I arrived, and unfortunately he had already left by the time I got to London. Still, whilst sipping on my free alcoholic drink (thank you, Mika!) and mingling with the MFC, I was on the lookout for Mika in case he came back.
And of course he did!
He mingled around the pub for a little while, chatting to a few people, but then he strolled to the DJ booth area and started to choose a few songs and play them. I ofcourse took plenty of pictures.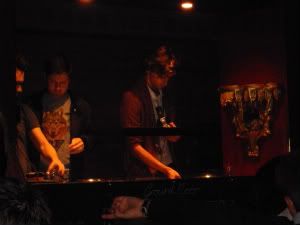 I've never actually had a picture *with* Mika, and that night didn't seem like the right time to get one in my opinion. I don't really know why, I just didn't want to pester him plus it was a personal moment too. My time will come, but for now I had to make do with a picture of me with Mika in the background. LOL! I look pretty shocking with the random strands of hair on my forehead (it's meant to be a side fringe)...hmm, the left hand side is not my good side. Oh well!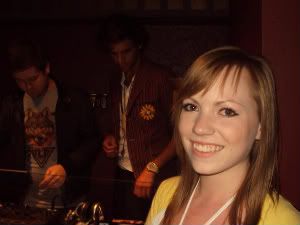 Feeling brave, I approached Mika and asked him if he was going to play "We Are Golden". He leaned in near my face and explained that he didn't have the song with him, but if someone had it he'll play it. He was so close I could feel his breath my face. It was slightly surreal. I replied, saying that I knew someone who had it and went to fetch them. A few problems occured, but eventually the song was played and the whole pub got up and started to dance and sing the lyrics.
Thank God Mika started to DJ because the songs got a whole lot better, and the "pub turned into a club" -- Mika's words. I managed to wiggle myself down to the front of the booth and rave with the rest of the crowd, including an old man. Mika found this quite funny and ended up taking pictures on his phone, which I am actually in, but only by a fraction!
In this one you can see my eye next to the old man's ear on the right.
And the same place here.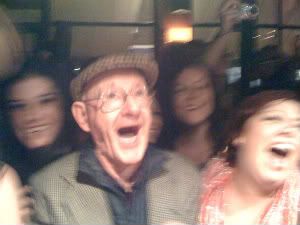 Mika had Jemma's iPod and started to play songs from it. Jemma had his song "Rain" on there (which is to be his new single in Europe) and he played it! Everyone sang to it and raved to it, and as you can see from my video Mika's face is beaming!
Here are just a few random pictures that I took plus one last video.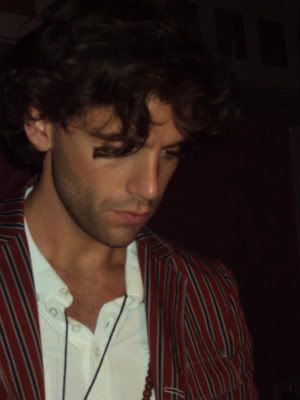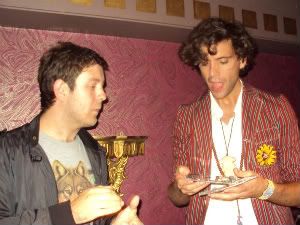 Last but not least, I managed to get Mika to pose for my camera. That's a very proud moment of mine. Here it is!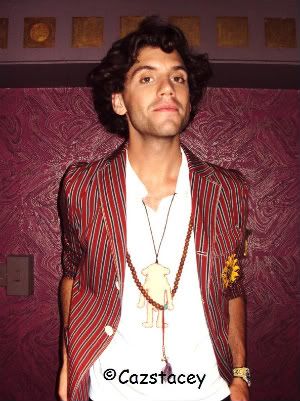 It was not long after this that it started to get late and it was my time to leave. I spoke to Mika again to say thank you for an amazing night, to which he said "No problem" (I think. My brain had turned to mush by this point) and he placed his hand on my shoulder.
I turned to leave, when I heard another new song of his fill the pub. It was "Blame It On The Girls", so I decided to party to one last song and then I left...for good.
I was in a state of euphoria and bliss and couldn't stop thinking about what happened. I didn't just celebrate with friends and an idol, I celebrated with someone famous but the atmosphere was so casual. And it felt so normal, as well. Luckily the party came to end not long after I left so I don't have much to be jealous about!
I feel very privileged to have had such personal time with him and is definitely an experience I won't be forgetting.