Waking up at 5am is actually a lot easier than it sounds. Well, sleeping in someone else's bed can always guarantee me a disrupted night's sleep so I was actually naturally awake at about 4:30am.
I was round a friend's house and the two of us soon became a group of 5 as we entered the train station to go to Covent Garden. Our train was departing at about 7am and we arrived in London Liverpool Street at 8am. Surprisingly awake (the most awake I've probably been all year so far), we headed over to Covent Garden to get our wristbands for The Bafta's. A guy in our group, Peter, saw his friend in the queue and she was already number 500 (some people were even queueing at 2pm the previous day!) We got out wristbands about an hour later and we were number 600.
The weather was dismal so we went to get some breakfast and stayed in the warm as long as we could to avoid the rain. Whilst waiting for 1pm to come along, we ventured to China Town to see the sights as people were celebrating the Chinese New Year.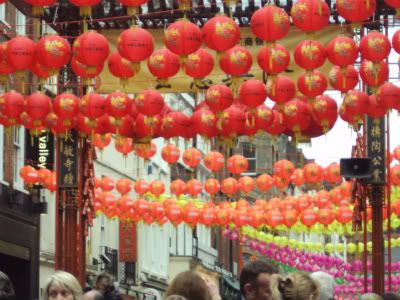 We got back to the queue and we had to be in numerical order. We waited for about 2 hours before we could be let in, and when we finally entered the Red Carpet area we had a pretty good view. I was second row so my view was a bit restricted (being only 5 foot and whatnot) but we didn't really complain. At about 4:30pm security men told us that we weren't allowed to be at this spot so of course we refused to move, considering that we had been waiting since 8am this morning and had a good view, plus no-one told us that this place wasn't for us when we got here so therefore it was a fault on their part. What happened, was that the Bafta's is supported by Mobile Phone Network "Orange" and all of their "Orange Winners" couldn't fit in one place, so therefore they had to make more room. We weren't at all happy but we shuffled to the left a bit trying to keep our spaces (though the group did end up getting split up), and we had barriers right next to us.
Turns out it worked to our advantage. Since my friend Zara and I are quite small (she was second row, I was third), we just sat on the barrier and no-one told us to get down. Genius!
I recorded practically every celebrity that walked past or came up to our area to sign autographs, so I got some really good shots.
The highlights for me were Prince William and Robert Pattinson. Prince William because it was so random and unexpected, and Robert Pattinson because he looked at my camera when he came to us. I'm not a fan of Twilight - I've never read the books, seen the film, nor do I fancy this guy - but I just found it quite cool.
So here they are, hope you enjoy them:
Michelle and Pete got their books signed: